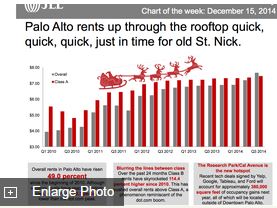 After stabilizing for much of the year, Palo Alto office rents are closing out the year on an up note, according to a new infographic from JLL.
The city, considered one of Silicon Valley's most desirable office markets, has seen rents overall climb 49 percent since the start of 2010, JLL says. The number for less-swanky Class B product? That's zoomed even more, up 114.4 percent, JLL says.
Read the full story in the Silicon Valley Business journal here.