Archives for June 2012
Presenting further evidence that the economy may be slowly improving – the office leasing market in the East Bay, and specifically, Fremont is warming like our spring weather. In The Wendel Report's East Bay Economic Roundup*, Christopher Thornberg, chief economist for the California State Controller's Office and founding partner of Beacon Economics, says, "We see an economy that is really starting to surge forward, and the Bay Area all by itself is leading the charge. The strengths of San Francisco and San Jose are spilling over into the East Bay now. Ultimately, I am very, very hopeful."
In the same report, Karen Engel, an economist and Executive Director of the East Bay Economic Development Alliance states that although the East Bay lost approximately 10% of its jobs in the recession – more than other parts of California – the region is now seeing significant growth in professional, scientific and technical service jobs.
With its highly educated, affluent population, Fremont is the perfect home for fast-growing new companies. And the recent rise in the professional, scientific and technical sector seems to be creating a lot of new leasing activity at Fremont Business Park – filling space and putting upward pressure on lease rates.
10 New or Extended Leases
Over the past few months, Fremont Business Park has seen 10 businesses sign new or extended leases. And more agreements are expected to be inked soon.

Anju Technology – NEW!
Anju Technology is moving into 42808 Christy Street from its previous offices in Pleasanton. Fremont Business Park's location puts the company closer to its target market of organizations that need an intuitive and affordable document automation solution. Anju Technology's products and services help companies better organize their electronic document folders, convert hard copy to electronic files, automate their workflow, and design web-based forms for data submission and management. Companies working with Anju Technology have seen enormous benefits in productivity and efficiency – one mortgage company eliminated 90% of its manual tasks and saw a 400% increase in productivity! For more information, e-mail info@anjutech.com.

Bay Area Coatings – NEW!
Joining other innovative technology companies in the 42840 Christy Street building is Bay Area Coatings. The company uses proven, eco-friendly technologies to refinish porcelain and fiberglass bathtubs, porcelain kitchen sinks, tile and fiberglass showers, tile and laminate counters, spas, and tile surrounds. The company also refinishes kitchen and bathroom cabinets, swimming pools and garage floors. For all of its porcelain and fiberglass work, Bay Area Coatings uses low-VOC (volatile organic compounds) coatings that meet the latest EPA standards. The company's paint removers and strippers contain no methylene chloride or other caustic or toxic chemicals and are 100% biodegradable. E-mail info@bayareacoatings.com. 

Cyber Security Works – EXTENDED THEIR LEASE!
Cyber Security Works (CSW) has extended its lease in Building 42840 Christy Street. The company's solutions are used to assess network vulnerabilities and dynamically penetrate business networks, systems, and enterprise and web applications to test their vulnerability. Deepali Syed, VP of Sales for North America, explained that CSW's solutions avoid sampling to evaluate a company's defenses. The company unique technologies effectively simulate the efforts of a clever human hacker. The result is that organizations get a more accurate view of their network's strengths and weaknesses so improvements can be made before a real hacker attack. CSW uses data from these simulated attacks to suggest innovative solutions for protecting networks. Learn more by e-mailing info@cybersecurityworks.com.
e-Infotek – EXTENDED THEIR LEASE!!
e-Infotek is another unique enterprise that has extended its lease in Building 42840 Christy Street at Fremont Business Park. Led by Puran Moorjani, a dynamic president with sales and management experience in India, Australia and the U.S., the company offers global solutions that include systems integration, sourcing and consulting. E-Infotek provides ASIC design assistance, IT consulting, custom-tailored global sourcing that meets business and budget requirements, engineering consulting in areas such as PDM or PLM, and mobile device application development. All of the company's solutions leverage the unique strengths and backgrounds of its team, based on real-world experience. For more, e-mail contact@einfotek.com.
GreenCube – EXTENDED THEIR LEASE!
A lot of young startups choose Fremont Business Park because it puts them on the threshold of Silicon Valley, without the valley's high rents. GreenCube is just such a company – a two-year-old, Missouri-headquartered high-tech firm that serves clients in a variety of industries. GreenCube recently extended its lease at 42808 Christ Street. The environmentally friendly enterprise provides consulting services and delivers process products to customers in the water business – including utilities, engineering firms, and other related organizations. GreenCube's local division was opened a little over a year ago with four part-time employees, but hopes to grow to 10 to 20 people by the third quarter of next year. This makes Fremont Business Park's flexibility in accommodating the space needs of fast-growing companies like GreenCube especially attractive.
LaTisha Webster – Mary Kay – NEW!
Mary Kay is one of the world's largest direct-selling organizations with annual sales of more than $3 billion. The company's skin care and color cosmetic products are in high demand in more than 35 countries worldwide. LaTisha Webster is an independent beauty consultant for Mary Kay who has discovered that small, personal-service businesses are well cared for in Fremont Business Park. She has signed a lease to run her business from 42808 Christy Street. The location puts her right in the middle of the action – within walking distance of Pacific Commons shopping center and Fremont's exciting new entertainment and shopping district – the Block. To learn more about LaTisha and her Mary Kay services, visit her website.
Omnitrol Networks – NEW!
Omnitrol Networks is a leading provider of distributed software solutions that automate business insight into physical operations. The company's solutions are at work in manufacturing lines, supplier chains, global asset tracking, and other similar operations. Integrated digital and analog sensors using wireless and RFID technologies provide critical, timely data to production control systems that enable businesses to better monitor and manage essential functions. Omnitrol has established its headquarters in the 42840 Christy Street Building, and has R&D  facilities in Ottawa, Canada, and New Delhi, India. For the full details, e-mail info@omnitrol.com.

SkyCross – EXPANDING!
SkyCross is growing, and that has necessitated nearly doubling its office space In Building 42840 Christy Street. The company, which designs and makes a selection of high-performance antenna solutions used in devices ranging from mobile phones to tablet computers, recently won a major award for the "Best Network Technology Advance" at the GSM Association Global Mobile Awards in Barcelona, Spain. SkyCross' patented iMAT® antenna technology enables advanced performance in sleek mobile devices by increasing the capacity, data rates and reliability of 4G networks. Adding to its growth, the company also recently began collaborating with Verizon Wireless and other leading equipment makers to deliver new wireless products using its iMAT® antenna technology. For more information, e-mail info@skycross.com.

Vpype – NEW!
Vpype is a three-year-old company that has leased space in 42808 Christy Street as it has seen its business begin to grow rapidly. The company creates social tools that enable people, businesses, brands, and studios to more easily broadcast and share their live video content. Its products integrate personal identity and social communities with live interactive video, enabling everyone from Facebook users to commercial broadcasters to form real, meaningful, two-way relationships with their viewers. Vpype's solutions require no software downloads or expensive equipment, so users can begin real-time video broadcasting with just a webcam and a microphone.

Zeno – EXTENDED THEIR LEASE!
Zeno, Inc. is extending its lease in Building 42840 Christy Street. The company runs two distinct businesses. Zeno can supply highly skilled professionals through contract placements, the hiring of permanent employees, comprehensive training, or consulting in areas such as network engineering, infrastructure management, cloud computing, e-commerce, and more. Zeno also works with clients in health care, life sciences, voice over Internet protocol (VoIP) technologies, data analytics for social networks, online advertising, and consumer applications handling architecture development and software design – with special capabilities in Java/J2EE technologies. E-mail info@zeno-inc.com.
Best Office Location in the Bay Area
Spring and early summer are peak times to get business done. An ideal location like Fremont Business Park can save you time calling on clients and provide desirable location benefits that help you attract and retain key employees.
•     Enjoy a highly professional, recently renovated work environment
•     Choose from spaces for the smallest startups to fast-growing firms
•     Take advantage of dining and entertainment services at Pacific Commons shopping mall and The Block, Fremont's hot new entertainment and shopping district – virtually at your front door.
•     Save time using Fremont Business Park's exclusive fiber-optic Internet service – the fastest in Fremont
•     Host client presentations in the common conference room, equipped with the latest meeting tools
•     Reduce your stress with workouts in the onsite fitness facility
Demand has been very strong lately and the spaces that recently became available are going fast. Don't wait! To arrange a visit, contact Lee Jatta, or call (408) 520-2437.  DRE License #01828564
* References from The Wendel Report, Winter 2012, published by Wendel Rosen, Grubb & Ellis, Mechanics Bank, and The Swig Company.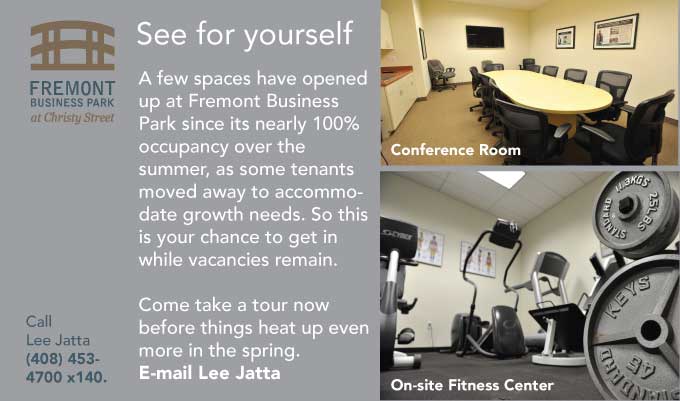 E-mail Lee Jatta, or call (408) 520-2437. DRE License #01828564