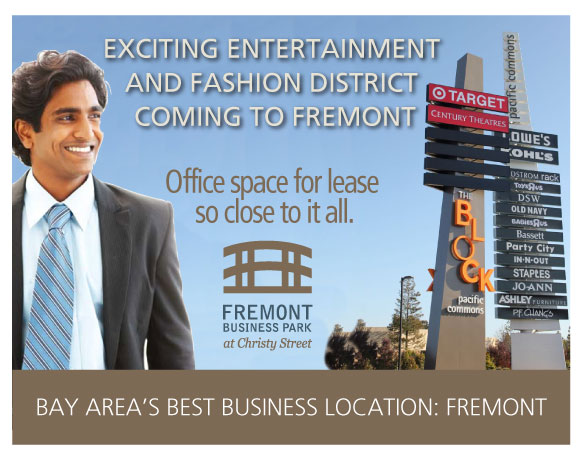 Well, that perk is about to be magnified enormously with the opening of The Block at Pacific Commons — the most exciting entertainment and fashion district this side of Downtown Disney!

16-Screen Cinema and More
The Block calls itself the premier place for shopping, dining and gathering in the East Bay. And judging from the cooooolest computer-generated flyover on YouTube, I'd have to say that's exactly what The Block will be when it opens in a few weeks. The district will be built around a 16-screen, state-of-the-art Century Theaters cinemaplex, which will seat 3,000 patrons and is expected to attract more than one million movie-goers annually. All those movie fans will need someplace to meet, mingle, shop, and eat — so the rest of The Block's 26 acres and 323,000 sq. ft. of retail space will be filled with a large Target store plus upscale dining establishments, fashionable shops, other trendy retailers, and art galleries. In addition, the festive, pedestrian-friendly walkways and common areas with avant-garde, interactive sculptures by world-renowned, Aristides Demetrious, will invite people to gather to talk, mix and relax.
Experience The Block on YouTube
Can't wait for the opening? Want to see the realistic, animated flyover of The Block for yourself? Click for the four-minute YouTube video.
Another Reason to Be at Fremont Business Park
When The Block opens this spring, you'll have another compelling reason to move your business to the best office location in the entire East Bay. Think of how excited your employees will be with everything that Pacific Commons and The Block offers — right at their front door.
You and your employees can also get your car serviced at Fremont Auto Mall dealerships right down the street. And commuting and client calls are fast and easy because you're about two minutes from the Auto Mall Parkway exit on I-880. And as an added bonus, an AC Transit bus stops at the corner in front of the parking lot and connects commuters with BART, about 20 minutes away.

Arrange a Tour Today
Occupancy in the three-building office center has been as high as 95% in the past year, but a handful spaces from 1,000 to 6,000 sq. ft. for various sizes of businesses have now opened up. Don't miss your chance to become part of this vibrant business community.
So if you're looking for the perfect Silicon Valley location — without paying Silicon Valley's high rents — come to Fremont Business Park.
For more information about Fremont Business Park or to arrange a tour, email Lee Jatta, or call (408) 453-4700. DRE License # 01828564