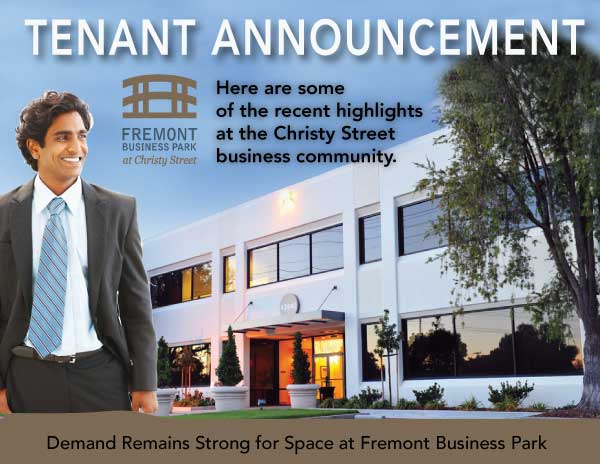 You wouldn't know the economy has been soft by looking at the strong activity at Fremont Business Park.
The three-building, 120,000 sq. ft. office complex — conveniently located just off I-880 at the Auto Mall exit in southern Fremont — remains one of the most popular destinations for businesses in the Fremont market or northern Silicon Valley, with numerous tours of the space, new tenants moving in, and existing tenants extending their leases.
Here are some of the recent highlights at the Christy Street business community.
GETTING THE GREEN LIGHTAER Worldwide is an innovative company that is a leader in green electronics recycling and distribution of reusable components. The company provides a full range of de-manufacturing and recycling services for a variety of electronics products. AER takes the new and used integrated circuits and other hardware components and resells them to original equipment manufacturers or other parties that can reuse them. It also eliminates the non-recyclable parts of the equipment in an environmentally sound manner. The company recently helped NetApp win a major award for its recycling programs. AER Worldwide has moved its distribution and recycling headquarters in Fremont to 42808 Christy Street. E-mail Salim Hijazi for more information.
AERCCR is a joint venture of AER Worldwide and CCR Logistics Systems. Like AER, the company is a specialist in recycling-related reverse chain management — offering customer-specific solutions from a single source. AERCCR recycles and remarkets a wide array of products, components and raw materials. The German-headquartered company provides services throughout Europe as well as across the U.S. It was recently selected by the State of Oregon to help implement its groundbreaking electronics recycling law. The company is located in Building 42840 Christy Street. For information, e-mail Anton Greiersen.

---

PDDN provides end-to-end software solutions and IT consulting services as well as solution software development. The company serves customers in many different industries, including telecommunications, finance, health care, transportation, and services. It delivers integrated solutions, handles software development and other technical services, and can take care of training and staffing support as needed. A key advantage is PDDN's ability to leverage its Bangalore-based offshore development team to ensure significant resource, expertise and time zone advantages. PDDN has extended its lease in Building 42840 Christy Street. To learn more, contact Naresh Vyas.

---

P3 Solutions is a consulting firm that specializes in Oracle Business Intelligence (OBIA), Hyperion Applications, and the Oracle e-business suite. P3 has earned the Gold partner designation and Oracle Partner Network Specialized distinction in OBIA and Clinical Development Analytics. P3 consultants focus on optimizing business processes to enhance a company's ROI. The company has achieved considerable success by enabling Oracle customers to roll out their Oracle Business Intelligence environment in as little as 20 days, rather than months. P3 Solutions is located in Building 42840 Christy Street. Contact Prashanth Prahlad.
Vince Cortese, CPA recently expanded his offices for Legacy CPA Inc. in Building 42808 Christy Street at Fremont Business Park. The team of accountants and CPAs at Legacy CPA offers a broad range of services in tax planning and preparation, accounting, retirement, and insurance planning for both businesses and individuals. The firm is highly proactive and responsive, and strives to build long-term relationships with clients — providing the highest level of service from offices in Fremont, Pleasanton and Albany. For more information, e-mail Legacy CPA.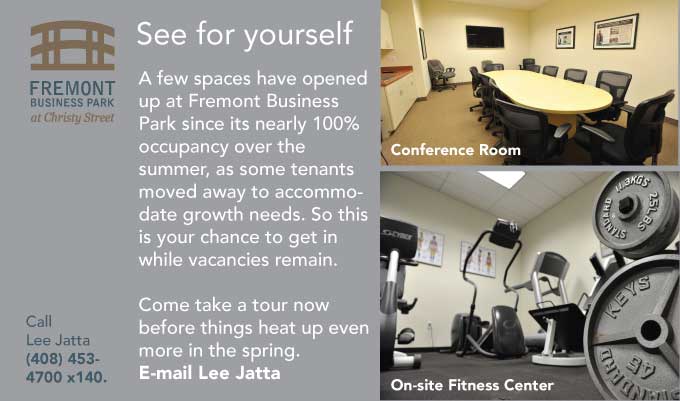 E-mail Lee Jatta, or call (408) 520-2437. DRE License #01828564